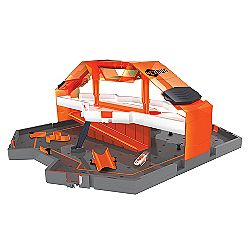 Innovation First Labs, Inc., creator of Hexbug Micro Robotic Creatures, unveiled its new back-to-school and holiday line up. Hexbug Micro Robotic Creatures are expandable and customizable robotic bugs.
Hexbug Larva is the new addition to the Hexbug family. The robotic bug slithers forward on smooth surfaces, mimicking real larva. The bug also reacts to its environment and can instinctively change direction when it senses an obstacle in its way.
The Nano Hive Habitat Set is the first transportable environment that allows Hexbug Nano architects to customize their design within a Habitat Set system. The set features a ramp, multiple levels, and a floor that has attachment points so children can pop in their choice of accessories.
The updated Nano Habitat Set features the Construct System, including modular parts and accessories. The floor of each Hex Cell has attachment pegs so children can personalize it to their liking. The Hex Cell also features removable walls so cells can be connected to one another to create different environments.
The company is also releasing limited-edition, holiday-themed Hexbug Nanos. For Halloween, the zombie Nano is decked out with coffin-shaped packaging and a glow-in-the-dark exoskeleton. For Christmas, the Holiday Ornament Nano comes with reindeer antlers and is packaged as an ornament.
Photo Credit: Kmart.com