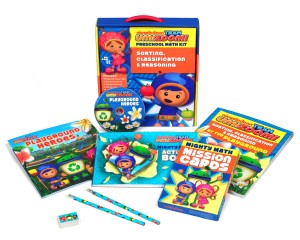 Team Umizoomi, the educational preschool show airing on Nickelodeon, is launching its first consumer product line, Team Umizoomi Preschool Math Kits. These new products help promote social and cognitive development in young children before they reach kindergarten.
The Math Kits will address the nine essential areas of math that preschoolers need to know: numbers, counting, patterns, shapes, measuring, positioning, sorting, classification, and reasoning. Each kit is based on one of three popular Team Umizoomi episodes and is equipped with a workbook, a storybook, an activity book, Math Mission Cards, and a Team Umizoomi episode on DVD.
The Team Umizoomi Preschool Math Kits will be available exclusively at Toys "R" Us stores beginning July 1st. The kits can also be purchased online from Nickelodeon starting in mid-July.